I am the worst about figuring out how much paint I will need for a furniture project. The worst. Wait...there's websites that will help you with that? Tons of tutorials to look up on Pinterest? Whoops. Silly me! We received a new-to-me dinette table from my mom's house. The color (a dark green) was blending into the gray walls and wasn't doing anything for the kitchen as a whole. I discovered this picture a few weeks ago, and it instantly became my inspiration: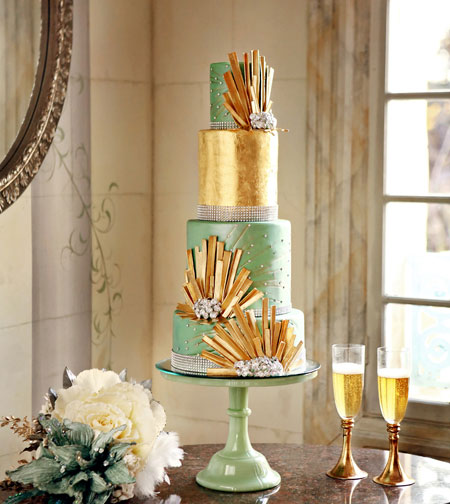 Click on this source if you're wanting to pin this image! Don't pin it from my page, as it is not mine.
Yes...a Great Gatsby inspired wedding cake. I have always adored a good gold and mint combo.
I went to Lowes and bought 4 cans of Valspar spray paint (2 metallic golds and 2 Color Radiance Mellow Springs). The Mellow Spring is a very pale mint. I had enough gold for the main portion of the table, but not enough mint.


Since it was about to rain, I had to bring everything in, finished or not.



2 1/3 of the chairs still need spray paint, and I am looking for fabric to cover the worn chair pads. Here it is so far.